À l'oral, nous nous exprimons différemment que par écrit ; la plupart des langues emploient également un style différent selon la forme écrite ou orale. Il est important de faire appel à des traducteurs disposant d'une expérience en audio. World Translation Center emploie des traducteurs audio chevronnés qui connaissent bien les enregistrements audio, et qui feront en sorte qu'à l'oral, on ait l'impression que votre projet a été formulé dans la langue sélectionnée. Un autre facteur à prendre en compte réside dans le fait que les langues emploient un nombre différent de termes pour véhiculer le même sens. Ainsi, le français emploie environ 25 % plus de mots que l'anglais. Nos traducteurs audio comprennent l'importance de garder approximativement le même nombre de mots dans le texte traduit que dans l'original, afin qu'il puisse facilement être enregistré dans le délai imparti.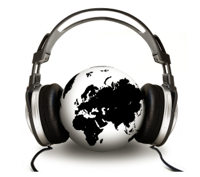 Si une vidéo présente plusieurs personnages, il est également important de s'exprimer différemment en fonction de chaque personnage, afin que le son de la vidéo et les paroles des personnages semblent intéressants et authentiques. Nos traducteurs audio connaissent bien ces subtilités, et peuvent appliquer différents styles à chaque personnage, le cas échéant.
La traduction peut être directement traitée depuis une vidéo, sans transcrire davantage le contenu. Nous pouvons également transcrire le contenu, créer un script puis procéder à sa traduction.
Points de synchronisation
Les vidéos didactiques présentent souvent des points de synchronisation et/ou un texte écran qui apparaissent à un moment donné dans la vidéo. En parallèle, la traduction doit correspondre ou être reformulée pour correspondre à la vidéo, afin que le nouvel enregistrement puisse être entendu au même moment que celui auquel les points de synchronisation apparaissent, ou le texte écran s'affiche.
Exemple de traduction correcte :
Texte original en anglais
Texte traduit
With your other hand, slowly turn the white pen body several times in the direction of the arrows until you see a

"2"

in the window and hear a click.
Avec l'autre main, tournez doucement le corps du stylo blanc à plusieurs reprises, en direction des flèches, jusqu'à ce que le

« 2 »

apparaisse dans la fenêtre et que vous entendiez un « clic ».
Si vous disposez d'une présentation PowerPoint composée de tableaux, et que le présentateur explique un certain point figurant sur ce tableau, il faut qu'il en parle lorsque ce laser est dirigé vers le tableau, et pas une minute plus tard. Les traducteurs audio gardent à l'esprit ces points de synchronisation, et essaient de les traduire en conséquence afin de faciliter le processus d'adaptation, et l'enregistrement du narrateur.
Parmi les scripts audio que nous traduisons figurent :
Vidéos traitant de tous les sujets
Présentations PowerPoint
Systèmes téléphoniques
Sites Web
Livres audio

et d'autres types de script audio
World Translation Center fait uniquement appel à des traducteurs humains professionnels pour traiter toutes les traductions de documents. Tous nos traducteurs sont des locuteurs de langue maternelle dont la plupart vivent dans leur pays natal, et traduisent uniquement vers leur langue maternelle pour garantir dans la mesure du possible une traduction de qualité optimale. Nous accordons une importance extrême à la qualité, et tous nos traducteurs ont fait l'objet d'un test.
World Translation Center fournit aux principaux entreprises, cabinets d'avocats et financiers, professionnels de la santé, agences de marketing internationales, organismes gouvernementaux, associations à but non lucratif et entreprises de toutes tailles basés en Amérique des services de traduction de documents et de voix-off de première qualité.